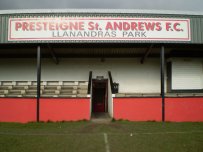 Presteigne St Andrews FC's chairman Alan Randell has confirmed the club will be holding the August 100 Club draw this Friday evening – 31 August.
This  month's draw will take place in the Royal British Legion Club at 9.00pm – or thereabouts, as it is something of a moveable feast depending on what time those involved finally get things organised.
The first-prize winner will be £100.00 better off come the end of the evening while there are a host of other prizes to be drawn as well.
A reminder to those of you who generously support the club with your purchasing of a 100 Club ticket that it is that time of the year again when renewals fall due.
The subscription remains unchanged at £25.00 per annum which affords you entry in each of the 12  monthly draws.
If you haven't had a reminder letter delivered yet, then you will be receiving one in the not too distant future and we hope you will be able to continue  your support of the club in this way.
The names of the winners of the August draw will be posted on the site at some stage early next week.