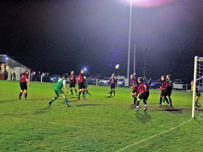 Presteigne St Andrews FC will face a vital MMP with Norman Lloyd, second-division match on Saturday, 2 February when they will head to Aberystwyth University.
From the outset, both games will be dependent on the weather – snow is predicted for overnight on Thursday-Friday and, while temperatures are supposed to pick up SA we get nearer the weekend, a thaw could bring issues of its own.
Both sides have found it tough so far this season with the students bottom of the table – one place and eight points behind Shaun Harris' side.
But, to be fair to the Uni squad, they do have no fewer than six games in hand on Presteigne so this is clearly a big game for both clubs.
As mentioned earlier in the week, Aberystwyth University are yet to win a league game this season while Presteigne are yet to win away so something has to give.
It will be cup action for the Reserves as they will host Hay St Mary's Reserves in the second round of the Pip Samuel (Electrical) Mid Wales League (South) Cup.
Alan Stocker and Tom Ammonds will be looking to their team to progress against a Hay side they have already beaten twice in the league this season.
Hay St Mary's Reserves had a disappointing day last time out when they were beaten 5-0 at Felindre – a result that handed the Teme Valley side their first league win of the season.
Assuming the Reserves' game does go ahead as planned, then the kick off at Llanandras Park will be at 2.30pm.
Admission prices will be the usual £2.00 for adults and £1.00 for senior citizens and youngsters under the age of 16.