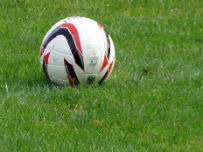 On Saturday, 13 April Alan Stocker's side headed to Llanidloes Town Reserves for the Pip Samuel (Electrical) Mid Wales League (South) Cup semi-final.
Presteigne Reserves had something of a mixed weekend in that the reached one Cup final but missed out on a second.
This was always likely to be a tough ask as Llanidloes Town Reserves are usually a handful on their own ground.
The Reserves trailed 2-1 at half-time but got it back to 2-2 in the second half thereby forcing the game into extra time.
But it was Llani's Reserves who were to prevail when they needed the decisive goal in the extra 30 minutes although there is a suggestion there was more than a touch of good fortune about the winner.
But well done to Llanidloes Town Reserves and best of luck to them in the final.
24 hours later it was back to Llanandras Park and an Alfred Sparey Cup semi-final tie against Knighton Town Reserves.
Given the Reserves had played 120 minutes of football the previous day, this was always likely to be a test.
But it was one they were to come through with flying colours as the Reserves moved through to the Sparey Cup final with a 5-2 victory.
I will add in details of goalscorers etc from both games when these come to hand but, in the meantime, not a bad weekend's work at all for Alan Stocker's side who can now look forward to emulating the first-team squad by playing in the club's own cup final.