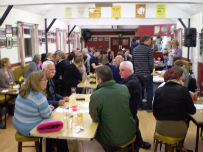 A reminder that Presteigne St Andrews FC is holding its annual Maundy Thursday quiz at the clubhouse at Llanandras Park on Thursday, 18 April.
The cost of entry will be £10.00 for a team of four and this will include refreshments.
A bar will also be available although – just to reiterate – your £10.00 does not include your drinks!
There is still time to get your team entered into the quiz – contact Tom Ammonds (see the foot of this page)
So, if you are looking for a good night out safe in the knowledge that, for most of us, the following day will be a public holiday, then this is the place to be.
The Quiz is due to get underway at 8.00pm, but teams are asked to start arriving at 7.30pm in the hope we can get off to a prompt start.
To book your table for the quiz, please contact Tom Ammonds on 01544 267091 or 07799 268007.