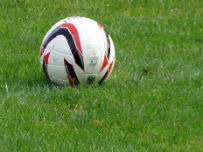 Presteigne Reserves' hope of ending the season on a winning note were dashed when they came up against a clinical Llanidloes Town Reserves side in the Alfred Sparey Cup final.
The match – played at Llanandras Park on Friday, 10 May – saw Llanidloes lift the trophy after a 4-1 victory.
While the Reserves battled hard throughout, Llanidloes Town's Reserves were sharper in the attacking third and this ultimately what made the difference.
But few would deny that the Daffs were good value for their win so congratulations to them on their success.
But Alan Stocker and his squad deserve a lot of credit for the way in which they have rounded off their season – many of the players have turned out for both the first team and Reserves in recent weeks.
The Otway Cup final on Sunday, 19 May will bring down the curtain on the season for the senior sides at Llanandras Park.
Presteigne St Andrews will take on Llandrindod Wells in the final at Llanandras Park – we'll bring you more details on that game later in the week.