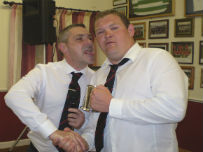 Presteigne St Andrews FC's committee members are on the look out for votes from fans for a Player of the Season for 2018-19.
The club is due to hold its Racenight and Presentation evening on Friday, 14 June.
Committee member Haydn Williams says the votes can be for a player from either the first team or the Reserves.
Anyone wishing to register their vote needs to get in touch with either Haydn, Tom Ammonds or Alan Stocker via a personal message by Wednesday morning (12 June).
So, if you attended games at Llanandras Park across the season, then please make sure you get make sure your vote is added into the mix.
Players, officials and fans of the club are also urged to let Haydn know if they intend to be at the Racenight so that arrangements can be put in place for food and drink for the evening.