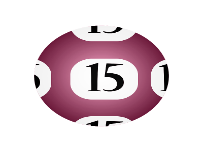 Honestly, it's like waiting for a London bus – nothing happens for ages and then two Super Lotto jackpot winners come along almost at once!
Only a couple of weeks after Sam Whittall claimed the £7,503 jackpot in the last major Super Lotto rollover, now comes news of another winner.
While Cesar Cakmak's jackpot win of £698 was, perhaps, a little more modest than some of those that have gone before, it's still a tidy return for a £1.00 stake.
So, many congratulations to Cezar who successfully came up with the four-ball combination of: 2, 6, 15 and 21 in the draw that took place in The Farmers Inn on Monday, 24 June.
So, the jackpot for the next draw will be £400 – still better than a poke in the eye, as they say…
The next draw will take place on Monday, 1 July – again, in The Farmers Inn.
Tickets for the Super Lotto cost £1.00 each and are available from Carini's Butchers, Stitch Embroidery and Print Service, Presteigne Carpets and Bed Warehouse, The Garage, The Farmers Inn, The Royal Oak and The Wine Bar, No 46.