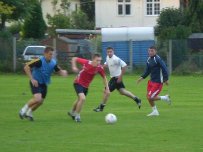 We might only be just into July but Presteigne St Andrews FC's pre-season training programme will get underway this week.
Manager Terry Williams has confirmed the first session will take place on the John Beddoes School field on Saturday, 6 July.
Things are due to get underway at 10 o'clock on Saturday morning and Terry is looking for a good turnout.
All of last season's squads are encouraged to attend while there is an open invitation to any player who fancies turning out for Presteigne this season to turn up as well.
Terry has said from the very start there will be no 'first team' and 'Reserves' training or pre-season games – it will be club training and everyone will have a chance to prove themselves.
So, if you fancy being part of Terry's plans for this season then get yourself down to the John Beddoes School field for 10.00am on Saturday morning.