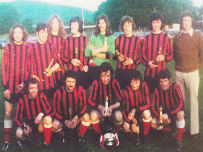 Presteigne St Andrews Football Club's committee and members are saddened to hear of the death of Geraint Whiffen after a long battle against illness.
From the outset, we all send our condolences to Rita and 'Whiff's' family and all of us who knew him would surely agree that with his passing goes another of Presteigne's true characters.
I am grateful to George Lancett whose Facebook post I have shamelessly 'borrowed' as it sums up 'Whiff' very well.
'Our friend Geraint Whiffen has passed away. Geraint arrived in Presteigne in about 1971.
'He worked at Kaye Alloys on an engineering apprenticeship.
'Whiff played football for Presteigne St Andrews FC. He played in goal and when requested in defence, midfield and as a forward.
'He was a lovely bloke who we will all miss.'
Towards the end of his playing days, 'Whiff' was a leading light in what was then our third team – Presteigne Colts.
As well as being a very good player, few who were in that Colts side would dispute that he was very much instrumental in the highly successful 'social' side of that team.
As we used to say: 'We were never going to be the best football team in the world but we had the best time,' and 'Whiff' was generally not far from the epicentre of the post-match fun and games.
After his footballing days he maintained his sporting interest with his long association with the town's highly successful hockey team so he played a large part in the sporting life of Presteigne over a long period of time.
We will post details of 'Whiff's' funeral arrangements when they come to hand.