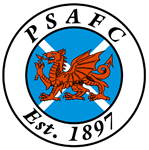 I did mention in an earlier post marking the sad passing of the club's former player Geraint Whiffen that I would put up details of the funeral arrangements as soon as the information came to hand.
We are told the funeral will take place at Hereford Crematorium on Friday, 19 July at 1.30pm.
It will be family flowers only, please but any donations will go to St Michael's Hospice.
If you are unable to attend the service at the crematorium then you are welcome to join the family at the Memorial Hall from 3.00pm onwards.
Anyone with any further enquiries is asked to contact Geoff Hall Funerals on 01547 528554.