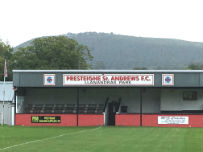 Presteigne St Andrews will continue the build up to the new season on Saturday, 3 August with a home game against Newtown Wanderers.
With the first-team season now only ten days away this will be a last chance for some players to prove a point.
Bryn Roberts will take charge of proceedings for this one – the kick off at Llanandras Park will be at 2.30pm.
Once again, this will be a 'club friendly' rather than a first team or Reserve game.
So, if you fancy a bit of fresh air this afternoon and want to take in some football, then Llanandras Park is the place to be.
Players are reminded that social club subscriptions fall due as from today and so they are encouraged to come armed with £5.00.