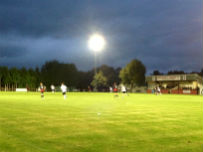 Presteigne St Andrews FC will play their final pre-season warm up match on Thursday, 8 August.
This game will be against Leominster Town at Llanandras Park where the kick off will be at 7.30pm.
As per normal with pre-season games, there will be no admission as such but there will be a collection on the night so, if you are planning on coming down to the games, if you could contribute it would be welcome at it goes towards the costs of the match referee.
The first team will open their MMP with Norman Lloyd campaign next week on Tuesday, 13 August when they will host Waterloo Rovers.
So, the kick off will be at 7.30pm and all support would be very welcome.