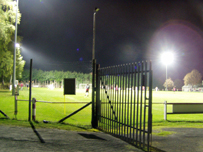 Presteigne St Andrews FC will open their MMP with Norman Lloyd League, second-division season on Tuesday, 13 August.
The curtain-raiser will see Waterloo Rovers arrive at Llanandras Park for a 7.30pm kick off.
After all the build up the season is finally here and manager Terry Williams and his squad will be keen to hit the ground running.
While nobody is making any rash promises about promotion or winning titles, the key driver for Terry is that the squad should play the game the right way and make progress from last season.
This promises to be a testing opening game of the season as Waterloo enjoyed an opening-day 2-1 home win on Saturday, 10 August in which they beat the much-fancied Newbridge-on-Wye.
If you are going down to the match, please note there will be a Minute's Silence ahead of the kick off in memory of club stalwart Geraint Whiffen who sadly passed away during the closed season.
So, football is back at Llanandras Park for another season – the kick off will be at 7.30pm and admission prices will be the usual £3.00 for adults; £1.50 for senior citizens and £1.00 for youngsters under the age of 16.