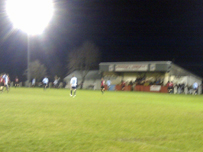 Presteigne St Andrews FC will face a local derby at Llanandras Park on Friday, 4 October.
Terry Williams' side will entertain Radnor Valley in a MMP with Norman Lloyd League Cup first-round tie which is due to kick off at 7.30pm.
This will clearly be a difficult fixture as Radnor Valley are a first-division side although, like ourselves, they have found life tough in the opening weeks of the campaign.
Radnor have only one win from their opening six games four of which have been home fixtures.
But, in most people's eyes, they will start the game as favourites as Presteigne, too, have been struggling for form so far this season.
The game is due to kick of at 7.30pm and please could those supporters of both clubs please ensure they don't park in front of driveways on Clatterbrune Estate.
We rely on the goodwill of neighbours so please work with us on this one.
As for the Saturday-afternoon entertainment, well, the Reserves are on the road – they will have a Mid Wales League (South) fixture at Llanidloes Town Reserves on 5 October.
The results last weekend unfortunately saw the Ressies drop to the bottom of the table, but they are realistically only one win shy of a mid-table spot.
If that win were to come this weekend then it would represent something of an upsetting of the form book as Llanidloes Town Reserves are second in the table.
They have won six of their opening nine league matches but, despite this good start, they are still eight points adrift of the leaders, Brecon Corries.
Here's hoping both sides can come up with something to show for their efforts and we hope to have the results up online at some stage over the weekend.