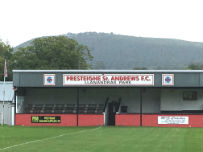 My thanks to Tom Ammonds who tells me the pitch is fine and so the MMP with Norman Lloyd League Cup fixture at home to Radnor Valley on Friday, 4 October will go ahead as planned.
There were some concerns early on with parts of the pitch reportedly very wet, but a midday inspection reports that all is now well and there are no further inspections planned between now and kick off at 7.30pm.
Of course, we always include the rider that, were the heavens to open later in the afternoon then we would have to reappraise that situation but, as things stand, it is very much 'game on'.
Just a reminder to those planning on attending tonight's game, if you find yourselves have to park on Clatterbrune Estate, please be careful not to block residents' drives.
We rely on the goodwill of our neighbours and so understandably we are keen not to upset them in any way.
So, kick off this evening will be at 7.30pm and here's hoping there's a good turnout for the game.