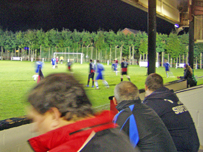 Congratulations to Bryn Roberts and his Reserves side who showed a welcome return to form by beating Rhayader Town Reserves at Llanandras Park on Thursday, 10 October.
The Reserves ran out 4-1 winners in their Pip Samuel (Electrical) Mid Wales League (South) Cup first-round tie.
My thanks to Tom Ammonds who managed to combine his duties as barman with that of official match reporter on this one.
'We went 1-0 down inside the first 15 minutes but equalised soons afterwards when the visiting keeper could only parry a Finn Özsoylu free kick and Gareth Bull was on hand to score the rebound.
'It was 1-1 at half-time and the second half was to be end-to-end stuff but we then began to get on top and Duane Anning scored after capitalising on a long clearance from goalkeeper Liam Christopher that was missed by a visiting defender.
'Duane still had a bit to do as he was one-on-one with the keeper but he finished it well.
'The third goal came pretty quickly after this when a slip from a defender allowed to Finn run through and round the keeper from where he scored from an acute angle.
'Paul Jones then hit a blockbuster late on – a serious contender for goal of the season – to cap off a great night for the Reserves.
'Credit to Rhayader who played the game in great spirit in testing conditions but the next round awaits for the Reserves.'