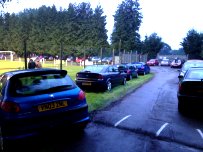 I am not suggesting that either Presteigne Reserves or Newcastle players are likely to be anything other than model sportsmen – this is rather more to do with potential hazards as you arrive at Llanandras Park on Wednesday, 6 November.
My thanks to Les Pitt who has forwarded information about some ongoing building works next to the ground that could affect those using the access road to the ground.
"I have just been advised by the developers of the adjacent. site that they have dug a trench across the entrance road to the ground for the purpose of installing services," writes Les.
"They are aware of the match this evening and apparently have covered it over and provided lights.
"I have not seen it myself but suggest every caution is taken this evening."
So, please take extra care when arrive at Llanandras Park for tonight's Mid Wales League (South) game which is due to kick off at 7.30pm.