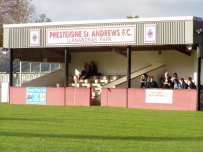 Both Presteigne St Andrews and Presteigne Reserves are scheduled to be in action on Saturday, 9 November with the first team facing a long away trip for a league fixture.
Terry Williams will take his side to mid-table Dolgellau where they will aim to pick up what would be their first away win of the season in the MMP with Norman Lloyd League, second division.
Home fans at Dolgellau have been somewhat starved of league football so far this season as they have only had two games so far.
They have one home win – a 3-0 victory over Abermule – and one defeat when Rhayader Town took the points in a 2-1 victory in late September.
But Dolgellau have played only six games so their league position of ninth could be a bit misleading.
As for the Reserves, they will head into their J Emrys Morgan Cup second-round tie at home to Llanfyllin Town looking to build on what was a solid performance in the 2-1 home defeat by Newcastle on Wednesday evening.
While Bryn Roberts' side might have lost the game, most onlookers felt they were good value for a point from that match until a late goal did for them.
Llanfyllin are a former Mid Wales League side but they are now playing their football in the Montgomeryshire Amateur League where they are struggling in division one this season.
They are currently bottom of the division with one point from their opening seven league matches.
The kick off at Llanandras Park will be at the earlier-than-normal time of 1.30pm for this one so please take note if you are planning to head down to give the boys your support. Admission prices will be the usual £2.00 for adults and £1.00 for senior citizens and youngsters under the age of 16.
If you are planning on making the trip to Dolgellau the kick off in the first-team game will be at 2.15pm.