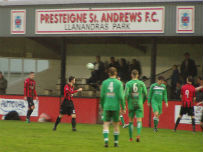 Saturday rolls around again and hopefully the weather will be better than in recent weeks and we could actually get to see some football.
Alan Stocker will take charge of the first team for the first time since the departure of Terry Williams and he will take the side to Churchstoke for a MMP with Norman Lloyd League, second division fixture.
Churchstoke won 6-0 at Llanandras Park earlier in the season so they will clearly present a major threat – especially on their own ground.
But, for all the fact they ultimately won comfortably in that first meeting, Churchstoke have won only two of their 11 league matches this season.
Were Presteigne to win the fixture they would then move to within two points of Churchstoke with two games in hand.
If you are heading over to Churchstoke to watch that one then please note the kick off will be at 2.15pm.
Meanwhile, the Reserves will be at Llanandras Park for another attempt to play their J Emrys Morgan Cup second-round tie against Llanfyllin Town.
The forecast is looking better than in recent weeks so we are hoping the game will go ahead as planned.
The kick off in the second-round tie will be at 1.30pm and there will be extra time and penalties should they be required.
Admission prices for the Reserves' game will be the usual £2.00 for adults and £1.00 for senior citizens and youngsters under the age of 16.