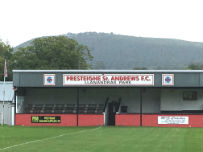 My thanks to Tom Ammonds who tells me that, after a precautionary inspection of the pitch at Llanandras Park on Friday, the Reserves' J Emrys Morgan Cup tie will go ahead as planned.
Roy Simcock will take charge of the Reserves for their tie on Saturday, 30 November in which they will host Llanfyllin Town.
Club officials will be relieved to finally get this game on at what is the third time of asking.
Thanks to groundsman Tracy Hammond and his helpers for their efforts in ensuring the match can go ahead as planned
A reminder this game is scheduled to kick off earlier than normal at 1.30pm
There will be extra time and penalties should they be required.
Admission prices for this game will be as per the usual Reserve-game prices – so, £2.00 for adults and £1.00 for senior citizens and youngsters under the age of 16.