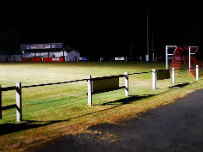 Presteigne Reserves will lead the way on Friday, 7 February when they will host Hay St Mary's in the Mid Wales League (South).
The game is due to kick off at 7.30pm at Llanandras Park.
As a club, Hay have had something of a disappointing season in that they had to withdraw their first team from the MMP with Norman Lloyd League earlier in the campaign.
But they will doubtless build again and the demise of their first team has presumably strengthened their Mid Wales League (South) club to some degree.
Hay currently sit in eighth place in the league table and they took the three points when they hosted Presteigne Reserves on Saturday, 25 January.
On that day, Hay St Mary's ran out 3-1 victors but Presteigne Reserves were in the game for long periods.
So, the Friday-night action will be at Llanandras Park but Saturday afternoon (8 February) will see the first team heading off to the Ceredigion coast.
Alan Stocker's side will head to Aberystwyth University for their MMP with Norman Lloyd second division fixture.
It's clearly been a very tough run for the first team this season and they'll be heading to the Uni hoping for an upturn in form.
The Students have been in somewhat mixed form of late – they drew 1-1 at home to Waterloo Rovers on Saturday, 11 January but were then beaten 6-0 at Newbridge-on-Wye a week later.
But, on Saturday, 25 January the College clearly got things right as they saw off Abermule 4-1 at home.
If you are heading down to Llanandras Park on Friday evening, then a reminder the kick off will be at 7.30pm and the admission prices will be the usual £2.00 for adults and £1.00 for senior citizens and youngsters under the age of 16.