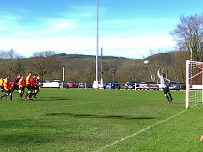 Presteigne St Andrews FC will aim to make it back-to-back MMP with Norman Lloyd League, second-division wins for the first time this season when they head to Dyffryn Banw on Saturday, 15 February.
We should put in the rider straight away that this will probably depend on whether or not Storm Dennis makes Mid Wales between now and then but, at the moment, it is very much 'game on'.
You can keep up to date with the latest weather prospects by clicking here – that will take you to the BBC weather site although, as things stand, it appears as though we might just get the game in before the worst of the rain hits the area although, as we all know, things can change quickly.
The specifics for Llangadfan where Dyffryn Banw are based can be found by clicking here.
Alan Stocker's side will be buoyed up after their 3-1 victory at Aberystwyth University in their last outing.
The first team overcame both a useful Uni side and the extremely windy conditions on the coast to come away from a game with all three points for only the second time this season.
Dyffryn Banw are just below mid-table in the second division – one place below Aberystwyth University – so the first team will surely be looking upon this as another chance to pick up some points.
Mind you, so will Dyffryn Banw who come into this game off the back of a tough run of fixtures that has seen them play Newbridge-on-Wye, Dolgellau and Machynlleth in the past month or so.
They have recorded a win at Churchstoke while, on Boxing Day, they put away Penparcau 3-1 at Dyffryn Banw so they are clearly a force to be reckoned with.
The kick off in this one will be at 2.15pm and, as we say, at the time of writing the game is on. If you are thinking of travelling to watch the game, it might well be worth check back here or on the club's twitter feed on Saturday morning to see if that situation has changed.