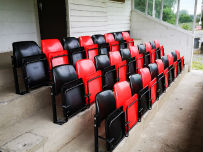 While there is likely to be no football at Llanandras Park for the near future, this is still a practical way in which you can support your local club.
You can sponsor a seat in the stand at £20 per season but we should make it clear that it doesn't guarantee you that seat every game!
The initial take up has been very encouraging but there is still time for you to get involved.
"The idea came to us as being a practical way of helping fund the club over what is going to be a difficult period," said club secretary Tom Ammonds.
"I have been very pleasantly surprised by how quickly the seats have been selling in what is obviously a difficult for many people.
"But there are seats available for sale so, if you are interested, please get in touch with me on: secretary@presteignestandrewsfc.co.uk and I will pass on the necessary information.
"It would great if we could sell all of the seats by the start of what should be an exciting new season – although, of course, at the moment we are not quite sure when that will be."