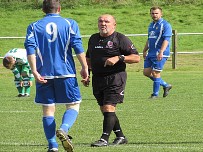 Following the recent managerial appointments at Llanandras Park, Trevor Owens has been talking to the two men taking on the challenge of turning around Presteigne St Andrews' fortunes.
Last week we heard from Gareth Jenkins and now Trevor has caught up with Gareth's joint-manager Rob Evans.
If Presteigne St Andrews FC had been looking for someone experienced in the ways of the Mid Wales football scene for their new manager there can be little doubt Rob Evans ticks that particular box.
In taking on the role alongside Gareth Jenkins, Rob explains his footballing pedigree stretches back more than 40 years.
"I was born in Llani (Llanidloes) and I played for Llani for many years," said Rob.
"I won the league title with Llani in 1972 and got poached by Caersws – the old arch enemy from just down the road – and then won the Montgomeryshire Cup with them in the 1975-76 season.
"I moved to Presteigne and got involved with the likes of Mike 'Nobby' Lockwood and Edward Traylor and played in the first team and the Reserves for a number of years.
"I moved across the valley to Radnor in 1987 and took over the manager's role there in 1990-91."
As he prepares for the latest chapter of his footballing adventure Rob feels the partnership with Gareth Jenkins is one that will prove a good fit.
"Gareth and I go back a long way," he explains. "As you know, I had been a referee on the local leagues for 28 seasons until I took up the reins at Radnor after a long, long spell of being out of football coaching.
"I've held Gareth in high esteem for many a year on the basis of going down to Hay and watching their style of play; they're attacking and play attractive football.
"When Gareth told me he'd been tentatively offered the job of manager at Presteigne but knew I was also interested, it was a case of: 'Let's see what we can do'.
"If the deal was right for us, why shouldn't we give it a go?"
After a season in charge of Radnor Valley in the MMP with Norman Lloyd League, first division, circumstances mean the club is likely to be looking in a different direction for next season.
While disappointed that Radnor's progress was halted due to their facilities rather than performances on the field, Rob refuses to be bitter about decisions handed down from on high preferring instead to focus on his new challenge.
"When you look at local football and the facilities at some of the clubs obviously the tier system has given that a bit of a kick in the teeth, so to speak, as it's spoilt the opportunity for clubs to play local football.
"But, having said that, it's given clubs the opportunity to raise their game and with the facilities at Presteigne it has got everything you need to start up the basis of a good side."
There is no doubt Rob Evans still has the hunger to succeed in local football and his recollection of past successes illustrates just how much winning things matters to him.
Tellingly, it's the near misses of his first spell at Radnor Valley that also live long in his memory and you sense it's these that play a major part in keeping that fire burning within him.
"When I was there in 1990-91 I took 'the Valley' to the Mid Wales League (South) Cup final and we lost in the final to the Vale (of Arrow).
"We played the Vale in four Radnorshire Cup semi-finals and it was at the time when the Vale were a very, very strong side.
"We competed with the best and in a very good standard of football at that time.
"Attracting players was very difficult as the facilities weren't there although the football and the players were there.
"Steve Piggott brought it to another level when I left so, yes, fond memories but you have to move on.
"But this at Presteigne is one hell of a challenge for Jenko (Gareth Jenkins) and myself and we are relishing that with great aspirations."