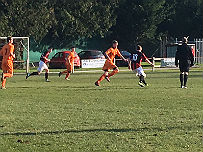 With news coming yesterday that the MMP with Norman Lloyd League had brought an end to its league season, so comes the inevitable news the Mid Wales League (South) has also called a halt to its campaign.
Congratulations to Brecon Corries who were deserved winners of the division – that much was pretty evident from their opening league match of the season in which Presteigne Reserves were unlucky enough to run into them!
Corries won all 16 of the matches they played scoring 143 goals in the process and conceding only two.
I can only assume that Rhayader Town Reserves and Talgarth Town must have each declared a Bank Holiday when they breached the Corries defence – given that sort of record, it would surely have merited one.
Llanidloes Town Reserves finished runners-up with Talgarth Town ending up third in the table.
Presteigne Reserves emulated the first team in finishing second-bottom of their division – the Ressies were a point clear of St Harmon with a game in hand.
One tag Bryn Roberts' side was never going to win was that of 'draw specialists' – not one of their league fixtures ended on level terms.
So, we can draw a line under the 2019-20 season and look to what will hopefully be brighter times ahead – although, of course, nobody quite knows when league football will return.