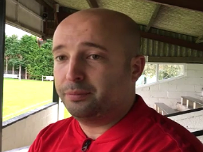 My thanks to Presteigne St Andrews FC's chairman Mark Weiland who has forwarded me his thoughts on the 2019-20 season after it was confirmed the campaign was formally ended earlier this week.
"I want to start by wishing all our players, committee, helpers and everyone who has been involved with the club – young and old," said Mark.
"My best wishes in this tough time and hoping everyone is staying safe.
"With the season finishing this week I wanted to look back over the past nine months or so and thank everyone involved.
"First of all to Terry Williams who started the season as first team manager.
"Unfortunately things didn't quite work out for Terry, but he gave it a good go and tried to play football the right way.
"When Terry resigned Stocks [Alan Stocker] was brought in until the end of the season.
"He did a cracking job in getting the boys motivated again and he provided the first team with their season's highlight with that victory up at Aberystwyth University.
"In other games, such as Waterloo Rovers and Dolgellau we were very much in those games and were a bit unlucky not to get anything out of them.
"It was a tough job to take on for Stocks but he gave it his all and the boys enjoyed playing under him and my thanks go out to Stocks for keeping the team going.
"I also want to thank Bryn Roberts for managing the reserves – his first year in the job and to get a squad together week in week out is a thankless task.
"We have all seen a few teams fold in recent years so to keep two senior sides running is a very good effort.
"Hopefully Bryn will carry on next season as Reserve team manager.
"I am delighted with the two new managers we've got for next season,
"I've known both for a number of years and spoke to Gareth quite a few times after Terry resigned but his work commitments resulted in him not being able to take up the role at that time.

"That has since changed and Rob and he got talking and came up with the idea.
"Gareth's got lots of experience in management with Hay at Spar One level so that will be huge for us, while he also won some decent cups with Hay.
"I remember Rob more from his reffing days as he booked me quite a few times!

"It's great to have him back at Presteigne; he was involved with the club many years ago so it's good that he knows quite a few local faces already.
"He managed Radnor this last season in the Spar One so again that's more experience coming into the club.
"Hopefully they can bring in the players they want and we can see a strong Presteigne side back at Llanandras Park,.
"I want to thank the committee for all there hard work this season – the club wouldn't run without them and also the groundsman Tracy Hammond who does a cracking job on the pitch.
"I also want to thank Spider who is currently cutting the pitch as Tracy is self isolating.
"I want to thank George and Mike who do a lot of unseen work down at the club, from doing the cleaning after a game to mowing and keeping the place clean and tidy.
"In particular, I would like to thank secretary Tom Ammonds who is stepping down from the role as secretary after a number of years in the job.
"It's one of the busiest roles in the club, especially with the new comet system coming into play this season.
"I would also take this opportunity to welcome Sharon Jones to the committee and she is taking over the secretary's job next season.
"I've got to thank Haydn for his work he does for the social club, from organising staff to ordering beer he does a brilliant job, while I would also like to thank all the bar staff, and tea hut ladies.
"It has been a interesting first season as chairman but I'm really enjoying it and learning all the time.
"I think they made the right choice to stop the season as people's health is more important than a game of football.
"I'm already looking forward to next season and with the new management team in place early, I really think it's exciting times in the future for the club."