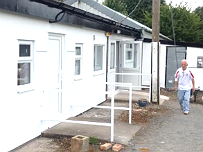 Presteigne St Andrews FC's chairman Mark Weiland has confirmed the club's Annual General Meeting has been postponed.
This was originally planned for 11 June but will now be held at a later date.
The ongoing issues with Coronavirus mean that meeting up at the clubhouse at Llanandras Park is not an option at the moment.
Not everyone is fully across the online options open to many of us so it was felt that it would be unfair to exclude anyone just because their internet access isn't that great.
Technically the club's rules dictate that: 'There shall be an Annual General Meeting of the club which shall be advertised to the general public held before 30 June each year'.
But when the rules were drawn up they didn't foresee a global pandemic heading over the near horizon and so most reasonable people would accept that there will have to be an exception to those rules made this year.
As soon as the restrictions ease the committee will arrange for an AGM and the details will be circulated accordingly.