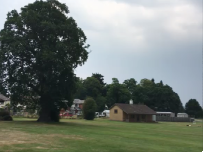 Pre-season training continues apace with the next session due on Thursday, 20 August.
This will again be held on the John Beddoes School playing field and is due to get underway at 6.30pm.
No doubt the management team of Gareth Jenkins and Rob Evans will be hoping for better weather conditions this time around after the 'celestial pyrotechnics' that accompanied last week's training session.
They arrived at the school field just in time for the first clap of thunder!
All players are again encouraged to attend the session as things are starting to build nicely and there is clearly going to be competition for places in the squad this season.
So, 6.30pm start – please be aware that all sanitising measures will again be in place so please be prepared to do as you are told on that front – after all, it's for everyone's benefit.