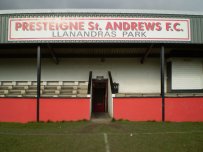 Presteigne St Andrews FC are on the look out for a new Treasurer for the Social Club committee.
If you are efficient and are good with figures and would be willing to give up some time to help out your local football club then we would be very keen to hear from you.
To be clear, the role is separate to that of Treasurer of Presteigne St Andrews FC itself and deals solely with the books surrounding the Social Club.
If you are interested and would like a no-obligation chat with someone about the role, then Social Club chairman Haydn Williams is your man.
If you would like to get in touch with Haydn, please email the club secretary Mrs Sharon Jones in the first instance – you can do that by clicking here.
Please put 'Social Club Treasurer' in the subject line and we will be in touch.