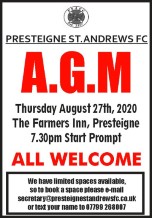 A reminder that Presteigne St Andrews Football Club is to hold its Annual General Meeting this evening – Thursday, 27 August 2020.
The meeting will take place at The Farmers Inn and is due to get underway at 7.30pm.
All social distancing measures will be put in place so it is essential that, if you are planning on attending, you email the club secretary to let her know of your plan to be there.
You can email the secretary, Sharon Jones, by clicking on the image at the top of the page.  Similarly, please email Sharon if you would like to give your apologies.
From the outset, if you are feeling unwell, please do not attend the AGM.
It is hoped we have as good an attendance as we are allowed to have but please be prompt as clearly we will be operating under very different protocols to those of a normal AGM.
Many thanks in anticipation of your help with this as it will help the evening run more smoothly.