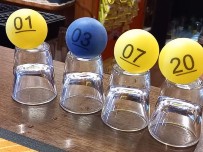 Congratulations to Debbie Jones who is the latest big winner on the Super Lotto jackpot.
The latest draw took place on Sunday, 5 September at The Farmers Inn.
The four numbers drawn from the pot were: 1, 3, 7 and 20 and Debbie was the only person to match all four balls.
As a result, she scooped the jackpot which was a very healthy £5,046.
Well done to Debbie – it was good to see it going to someone local and I am sure she will put her winnings to very good use!
The Super Lotto will continue this week with the jackpot standing at a more modest, but nonetheless well-worth-having £623.
Tickets cost £1.00 each and are available from the usual outlets.
I hope to have an updated list of those premises that are good enough to help us out with the Lotto in the next day or so – when I do, it will be posted here.