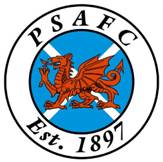 Presteigne St Andrews has a long history that actually stretches back further than the year 1897 that is found on the team's badge.
The original club in the town was Presteigne Town Football Club, but this ran into financial problems (yes, they even had these issues back then..), so the local church was behind the second incarnation of the club in 1897.
Among the plans for this page of the site are memories of some of the bigger matches in which the club has played over the years.
The first of these will be a look back at the Welsh Cup third round tie at the then Alliance Premier League Club, Bangor City on 17 November 1979 in which Presteigne pushed their illustrious hosts all the way before going down 3-0 as the home side netted twice in the last five minutes.
The plan is for these memories to appear on a drop down memory on the history section of the site, so keep checking back over the coming weeks and months for the latest additions.
This page will be updated as time goes on and we get more material, but if you have any old photographs or match programmes that you might be prepared to let us have copies of to put on the site, then please email us with the information.