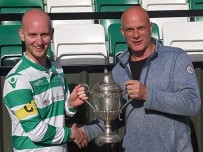 Presteigne St Andrews FC's management team of Gareth Jenkins and Rob Evans are having a very busy week.
Will Goodwin becomes the latest player to commit to the Llanandras Park playing squad for the coming season.
Will is another player who is well known to the managers and also to followers of Mid Wales football as he's enjoyed his share of successes along the way.
"Will is a very versatile player who can play in any position," said Gareth.
"He is is very cool on the ball and reads the game well.
"He has previously played for Hay St Mary's FC in Tiers 3 and 4 and has a lot of experience."
Welcome, Will and, as with our other signings, we hope you enjoy your time with us at Llanandras Park.
Further announcements are likely later today and also in the coming days so please check back regularly for the latest information.