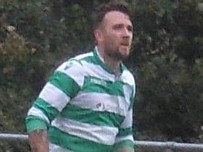 Another new signing has put pen to paper and so will be showcasing their skills at Llanandras Park in the coming season.
Liam Pike is the latest new recruit and the management team is clearly hoping he will play a big part in helping keep things tight at the back in the coming campaign.
Joint-manager Gareth Jenkins says Liam is a fine player who is also versatile which could come in very useful as the season unfolds.
"Liam is a solid defender who can play at centre or full back," said Gareth.
"Liam moved to the area from Bristol where he played for Park Knowles FC.
"He then signed for Hay St Mary's where he has played for the past two season.
Welcome to Llanandras Park, Liam, and we hope that, as with all the new arrivals, your time with us proves both enjoyable and productive.
So, things are coming together nicely for the first-team squad and a reminder to all players that there is training tonight (Wednesday, 12 August) at 6.30pm at the John Beddoes School field.