Support your club and sort out your shopping!
   
So, you are a current and former member of Presteigne St Andrews FC and would like a memento of your time with the club, while also doing your bit to help out with current club funds… we might have just the thing for you!
Presteigne St Andrews Supporters Club has launched a range of merchandising with the profits from the proceeds going into club funds.
So, if you or someone in your family have ever enjoyed their football at Llanandras Park, whether as player, official or spectator, and you are looking for a present with a difference, then why not consider something from our range as illustrated below.
Combine your support with a pint!
Your very own Presteigne St Andrews FC pint glass – embossed with the club's badge.  Just the thing for the Presteigne fan who is partial to a pint at home!
These cost only £5.00 and one could be yours in time for Christmas.  You can order now by clicking here and we will then make arrangements to get your pint pot to you.
  
 
Presteigne St Andrews pin badge::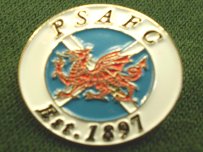 These smart enamel pin badges are now available and are the perfect addition to the best-dressed lapel this season.
Adorned with the club's crest, these badges have been sourced so as to ensure they are of the best possible quality.
They are available from Stitch Embroidery or from the social club and are priced at £1.50 each.
If you would like to purchase one but are unable to get to Llanandras Park, then this will cost £2.00. Please email the club and we will sort this out for you.
  
  
Presteigne St Andrews Pen::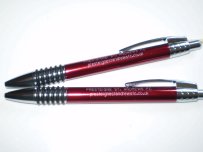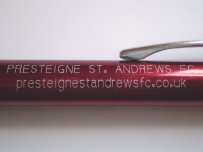 If you are after that small perfect small gift to top up your birthday or Christmas shopping for your loved one, then why not opt for a Presteigne St Andrews FC pen?
The black ball point pens are excellent quality and come inscribed with the club's name and email address – the perfect gift for the Llanandras Park supporter.
They are priced at £1.50 and are available from the clubhouse – they are on sale behind the bar, or by email.
If you want to purchase a pen by mail order, then you can do so for £2.00 (including postage and packing to the mainland UK).
If you would like to buy the pin badge and the pen together, then you can do so for a combined price of £3.50 (including postage and packing to the mainland UK).
 
 
Presteigne St Andrews Beanie Hat: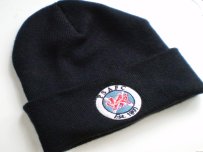 Just the thing to keep your head warm during those cold winter afternoons stood behind the goal at Llanandras Park – or anywhere else for that matter.
Black, 100% acrylic with the club badge on the front, the beanie would be a great gift for any Presteigne supporter.
They retail at £8.00 (including postage and packing to the mainland UK)
Why not bundle this up with another of the items on offer to make a birthday or Christmas present for someone in the family?
 
Presteigne St Andrews FC Mug::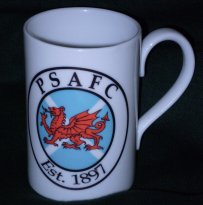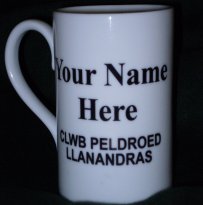 For a start, why not brighten up your tea or coffee break with thoughts of a win at the weekend!
Your Presteigne St Andrews FC mug comes with the club crest on the front of it and a very adaptable reversable handle for right or left-handed drinkers(!)
If you want to give your mug as a gift, then for an additional small charge you can personalise it with the name of the recipient on the back of the mug – this should sort out those disputes at home or work as to whose mug is whose…
The mug retails at £10.00 (including postage and packing within mainland UK) without the personalised logo on the reverse while, for an additional £2.00, you can have the name of our choice printed on the reverse.
The mugs can be collected from Stitch Embroidery in Presteigne or posted to the UK but please email the club for details of the cost of the postage and packing.
 
Club hoodie::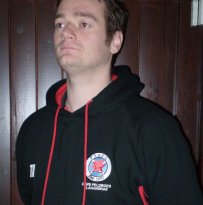 The hoodie is predominantly black in colour but had red side panels and draw strings for the hood.  It also has the club badge on the breast.
Emblazoned with the club badge and in Presteigne St Andrews' traditional colours of red and black, the hoodie retails at £25.00 (including postage and packing to the mainland UK).
To further personalise the hoodie, for a small additional fee you can have your initials embossed on the breast of the hoodie.
Take a look and let us know which size you would prefer – they are available in small, medium, large or extra large.
If you live overseas and would like to order any of the above items online, then please ensure you email us first so that we can quote you for postage costs to your country.
Many thanks for supporting Presteigne St Andrews FC – wherever you are in the world!