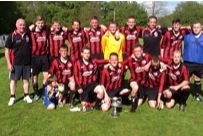 The 2015-16 season will again see Presteigne Reserves play their league football in the Mid Wales League (South).
Mark Weiland continue as player-manager for the Reserves who will be looking to get back to the sort of form they showed in the 2013-14 season when they won a couple of local cups and reached the semi-final of the prestigious J Emrys Morgan Cup for junior sides throughout central Wales.
The squad could well be be hampered to a degree as a chance of policy regarding the way in which the first team is run means that some of last season's Reserve-team squad are again likely to find themselves playing first-team football this time around.
But that is what Reserve teams are for – to supplement the first team squad – and Mark Weiland knows he is likely to have to look elsewhere for players to add to his squad.
The Under 17s certainly have a few players looking to progress – not least because they are no longer Under 17 – and this will be part of the remit for the Reserves this time around. They have to aim to blood some of those youngsters in adult football and ensure they become part of Presteigne St Andrews FC.
The Reserves will play their home matches at Llanandras Park and will generally kick off at 2.30pm on a Saturday afternoon.
Any midweek matches are likely to kick off at 7.30pm and these will generally be played on a Tuesday evening.
The Reserves will also play in a series of local cups towards the end of the season – included among these are the Alfred Sparey Cup and the Builth Spa Cup in which the Reserves have enjoyed considerable success in recent seasons.
Admission for Reserve-team games at Llanandras Park is £2.00 for adults and £1.00 for senior citizens and youngsters under the age of 16.