Thirteen teams to contest two cups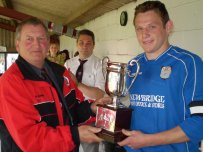 Thirteen teams will take part in Presteigne St Andrews two cup competitions for the 2009-10 season with four clubs contesting the senior Otway Cup, while nine will harbour hopes of winning the junior Alfred Sparey Cup.
The draw for both competitions was made at the committee meeting on Wednesday 30 September and the Otway Cup semi-finals will see another meeting between Presteigne St Andrews and Hay St Marys.
The holders, Newbridge, will play Leominster Town with both semi-finals due to be played in either March or early April, with the final being staged in May. The dates will be confirmed when the picture is clearer with regard to the league fixtures of competing clubs.
CP Llanandras will make their debut in the Sparey Cup with a first-round tie against Leominster Reserves with the winners then hosting Shobdon in the quarter-finals.
Presteigne Reserves were also drawn at home in their quarter-final tie – they will host Radnor Valley. The holders, Talgarth Town – although they were known as Gwernyfed when lifting the cup last May – will open their defence with a home tie against Rhosgoch Rangers.
The full draws are as follows:
Otway Cup:
Sponsored by Pre-fab Clad (Shobdon)
Newbridge v Leominster Town – Sunday 28 March – Newbridge walk over as Leominster withdrew
Presteigne St Andrews v Hay St Marys – Sunday 25 April – referee Paul Kirkham
Otway Cup Final:

Newbridge 0 v 0 Presteigne St Andrews – (after extra time – Presteigne won 4-3 on penalties)
Sunday 9 May 2010 at Llanandras Park
Referee::   Rob Evans (Bargoed)
Assistants::   Nigel Stocker (Shobdon) and Mark Ammonds (Hereford)

Sparey Cup:
First round:
CP Llanandras 2 v 6 Leominster Town Reserves 
Quarter-finals:
Hay St Marys Reserves 2 v 2 Llandrindod Wells (aet: Hay won 4-3 on penalties)
Talgarth Town 4 v 2 Rhosgoch Rangers
Presteigne Reserves 4 v 1 Radnor Valley
Leominster Town Reserves 7 v 0 Shobdon
(These ties due to be played by 28 February 2010)
Semi-finals:
Presteigne Reserves  – walkover after Leominster Town Reserves withdrew on Saturday 10 April.
Talgarth Town 1 v 3 Hay St Marys Reserves – Sunday 18 April – referee Neil Holder
The draw for the semi-finals was made at the committee meeting of Presteigne St Andrews FC held at the Farmers Inn on Tuesday 9 March 2010.
Final::
Presteigne Reserves 2 v 1 Hay St Marys Reserves  – Sunday 16 May at Llanandras Park (kick off 2.30pm)
Referee:: Andrew Mills (Nantmel)
Assistants::  Dave Bywater (Dolley Green) and Tom Edwards (Presteigne)
Check back here throughout the season to keep in touch with the latest results and developments in both cup competitions.