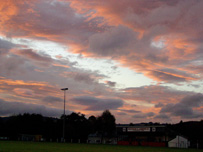 This page will host occasional video highlights of matches and other club events – but the regularity of these will depend on just how often I get the chance to film any of the games.
There are also some audio interviews as done with managers and other key figures after games.
From the outset, this is an experiment – the quality of the camera is not the finest, but then it was hardly the most expensive so it proves a popular addition to the site then we might just look at upgrading the kit.
In terms of the regularity of new videos appearing, well, it just depends on how many games I can actually get to, or how many other club members I can beat into submission so they will do the majority of the work for me…!
The editing will get better – as will the camera work, but bear in mind the first offering below was shot as something of an afterthought at the Presteigne Reserves-Rhayader Town Reserves match and was edited in about 10 minutes!
Video Highlights are shot and edited in Windows Media Player format::
Presteigne Reserves v Rhayader Town Reserves 16 10 10 – video
Aberystwyth University v Presteigne St Andrews SMWL 23 10 10 – video
Andy Crowe interview after Radnor Valley (home) 23 October 2010 – audio
Tom Ammonds after the 3-1 home win over Dyffryn Banw – audio
Waterloo Rovers v Presteigne St Andrews 6 November 2010 – video
Reserves v St Harmon 6 November 2010 – video
Presteigne St Andrews v Builth Wells 13 November 2010 – video
Under 18s v Lads Club HFA Floodlit Youth League 22 November 2010 – video
Presteigne St Andrews v Builth Wells Central Wales Cup third round Saturday 15 January 2011 – video
Winning goal Under 18s v Pegasus Juniors HFA Floodlit Youth League 24 January 2011 – video
Tom Ammonds on turning down a move to Rhayader Town 31 January 2011 – audio
Presteigne St Andrews v Tywyn Bryncrug Spar Mid Wales League first division – video
Tom Ammonds post home defeat by Carno in League Cup 16 March 2011 – audio
Duane Anning goal v Builth Reserves in the Sparey Cup semi-final – Video
Danny Ives goal at Newbridge in Spar Mid Wales League first division – Video
Reserves penalty shoot-out win in the Radnor Valley Cup Final – Video