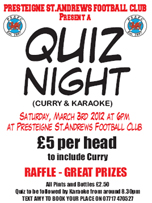 14 teams battled it out for the coveted prize of Sunday Lunch for four at The Farmers In,  a PSAFC pint Glass (filled up) and the first song on the karaoke.
The winning team were the politically correctly named 'Special Needs' (Andy Crowe, Nigel Hayward and Glyn (Gringo) Price with 66 points.
Second place went to Tosides (Mark and Amy Ammonds and Martin and Davina Bull) on countback as they were level with '3 Men and a Smurf' (Danny Evans, Flab Jones, Andrew Shears and Alan Stocker both on 63 points.
The Booby prize (box of sensations) went to the team of 'WAGS of 3 Men & a Smurf' (Holly Jones, Donna Hicks, Anna Jones and Kirsty Evans)
The raffle was also very entertaining and PSAFC would like to thank everyone for their donations – Allstone, Presteigne Carpets and PSAFC.
On behalf of PSAFC, can we say a massive thanks to Amy Anning and Kelly Hodges-Small from Presteigne Carpets for their hard work in organising the event and for providing the curry.
Also, a massive thanks to Len Hanslow for providing us with the Karoake a great night had by all.