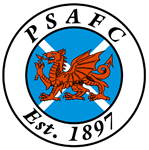 It is with great regret that Presteigne St Andrews FC can confirm the proposed management team of Gareth Jenkins and Rob Evans will not now be taking up their roles at Llanandras Park.
The club announced the exciting appointment of the experienced duo in April 2020 but the onset of the Covid-19 pandemic meant they were never actually able to take charge of a match.
Club chairman Mark Weiland says both managers' circumstances have changed due to the pandemic and they have informed him they will no longer be able to take up their posts.
"It is a great shame as there was genuine excitement around the club after the appointments given the calibre of player the managers were bringing in," said Mark.
"But, as with so many people, Gareth's circumstances have changed due to family members' work situations after Covid-19 and so it's understandable he feels he can't fully commit to football at the moment.
"Similarly, Rob's family has been been affected by the virus and so he, too, has more pressing issues to deal with.
"While we are obviously very disappointed, if Covid-19 has brought us anything, it's a sense of perspective and it's right they should put family first," he added.
The search will now begin for a new manager ahead of the 2021-22 season and anyone who is interested is asked to contact Mark Weiland in the first instance.
All conversations will be in confidence and anyone who would like an informal chat with Mark should call him on: 07766 576699.