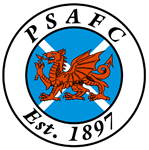 Presteigne St Andrews Football Club have announced that – with great regret – they are to withdraw from the MMP with Norman Lloyd Mid Wales League East Division for the 2021-22 season.
Following detailed discussions at committee level – discussions that involved manager John Haycox – it was felt that, for the good of the club as a whole, this was the only sensible step.
Club chairman Mark Weiland says it was clearly a sad day but, in the current circumstances, it had been agreed it was the right decision:
"Crucially, the players themselves have indicated they would not be keen to play at Mid Wales League level.
"We have a lot of good, young players and they have responded very well to John's training sessions, but the fact is we are lacking the senior players needed to compete in the Mid Wales League."
"After a number of seasons in which we have struggled towards the foot of the table, we had hoped to recruit some older heads to bolster the squad for the coming season.
"We have been hit hard by Covid in the sense we had appointed Gareth Jenkins and Rob Evans as managers and they had assembled a strong squad, but then that season never happened and things have moved on.
"John has been working hard to try to bring in a few experienced players but it has proved more difficult that either he or the committee had hoped. 
"We apologise to the MMP with Norman Lloyd Mid Wales League officials and the other clubs for any inconvenience caused, but hope they appreciate we have taken the pragmatic decision that it is better pull out before the season starts than risk having to do so during the campaign."
John Haycox has given his support to the move and is to continue as manager.  The club will compete in the Mid Wales League (South) during the coming season while it's also planned to field CP Llanandras as a development side in the same division.