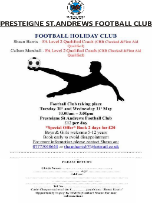 Presteigne St Andrews FC's new manager Shaun Harris is to run holiday football courses for youngsters later in May.
These will take place at Llanandras Park on Tuesday, 30 and Wednesday, 31 May and will run from 10.00am until 3.00pm.
Both Shaun and his fellow coach Callum Marshall are FA Level Two qualified coaches, while both hold the necessary CRB and First Aid clearances.
The cost for the course will be £12.00 per child per day, but there is an offer of £20.00 for the two days.
Boys and girls aged between 5 and 12 are welcome.
So, if you are interested, then you can contact Shaun by email – click here for an email link or you can call him on: 07773 018644.
Just think, if you take part in those courses, you will have the chance to be trained by the first-team manager before the first team players are!
All the details you need are on the poster below – if you want to print out the poster on your own printer so you can then fill in the application form for the course then all you need to do is 'right click' on the image and then click on 'Save image as'.
Then, save it on to your desktop (or whichever folder you would prefer); then print it off and fill in the form – simples!