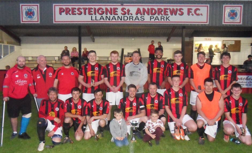 As we head into the final weeks of the football season, there is still a chance for the Reserves to end the campaign on a high note.
Alan Stocker's side will take on Llanidloes Town Reserves in the final of the club's own Alfred Sparey Cup at Llanandras Park on Friday, 10 May.
The kick off will be at 7.30pm and we are grateful to the Sparey family for their continued and valued support of the competition.
The Ressies will be looking to bounce back from the disappointment of missing out on the Ron Ellis Cup at Hay St Mary's last week when they lost on penalties in the final.
But they will know that Llanidloes Town Reserves will present another serious test as they've enjoyed some good battles with the Daffs' second string already this season.
This will be the fifth meeting between the sides this season with the usual mixed bag of outcomes along the way.
From the opening day of the campaign when the Reserves lost 4-3 in the Summer Cup final through until a 3-2 defeat in the League Cup semi-final there has been no shortage of entertainment in the games between the sides.
Alan and his players will doubtless point to the home league fixture in which they ran out 5-1 winners over Llani's Reserves back in October.
So, one thing that has not been in short supply with this fixture has been goals – here's hoping that continues on Friday evening.
So, it will be a 7.30pm kick off at Llanandras Park and the admission prices will be the usual ones for a Reserve game – £2.00 for adults and £1.00 for senior citizens and youngsters under the age of 16.