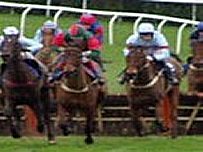 A reminder that the club will be holding its Presentation night and players' social evening at Llanandras Park on Friday, 14 June.
Those attending are asked to turn up for 7.00pm so the evening can get off to a prompt start at 7.30pm.
The main part of the entertainment will be centred around the Racenight – horses have not been sold beforehand so it's all for a bit of fun.
At the risk of stating the obvious, there will be the chance for a flutter on the night while the bar will be open for business.
If you are planning on attending the Racenight, please can you let Haydn Williams know beforehand.
Here's hoping it proves to be an enjoyable evening for everyone concerned and a fitting way to round off last season as well as building into the next campaign.