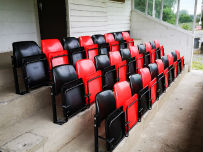 We might well be out of the football season as such but the work never really stops at Llanandras Park.
Well done to those who have been heavily involved in the upgrading of the stand during the past few weeks.
Danny Evans has done a lot of the preparatory work as the benches were removed and the stand readied for the installation of the new 100 bucket seats needed to meet the criteria for Tier Three football in the new-look Welsh football structure.
Some might say: 'Why are you bothering as we don't often have 100 people in the ground and, when we do, a lot of them stand behind the goal?'
To be fair, it's a valid point but the fact is if the club has aspirations to play at a higher level in future then this is part of the criteria.
We are grateful to the FAW grants committee for their support that allowed us to undertake this project and to Danny Evans for his work in preparing the stand and to Alderdale who were the company that fitted the new seats.
So, if you are heading down to the Annual General Meeting on Thursday, 20 June, why not take a look at our plush new 'accommodation' for supporters for next season.