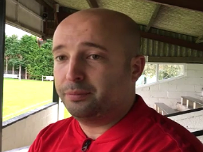 Congratulations to Mark Weiland who has been elected the new chairman of Presteigne St Andrews Football Club.
The Annual General Meeting knew it would be a key item on the agenda as Andy Crowe had indicated some time ago that he was looking to step down.
In taking up the post, Mark began by paying tribute to Andy's contribution to the club over recent years, adding he was delighted 'Crowie' would not be lost to the committee in the coming year.
In order to allow for a smooth transition, the meeting agreed the Andy would become joint-vice-chairman with Bryn Roberts.
All other officers were re-elected to their posts for the coming year but club secretary Tom Ammonds has indicated he will be looking to step down at the end of the 2019-20 season.
The Social Club AGM followed immediately after the club AGM in which all the officers were re-elected.