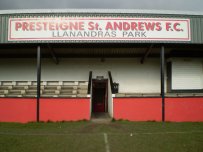 Presteigne St Andrews FC's manager Terry Williams has held the first pre-season training session of the summer.
Yes, it is 'off and running' as the headline suggests with a fair bit of 'running' involved, but it's worth mentioning the footballs were also out early on so the players could get back into the swing of things.
With the first friendly only a week away, Terry is keen to get some running into the legs of the players but says he's keen to play a passing game this season.
So, it makes sense that there was plenty of emphasis on getting the footballs out early so the players are as prepared as they can be for that opening match at Leominster Town on Saturday, 13 July.
Also in attendance were Reserve-team manager Bryn Roberts and the new club chairman Mark Weiland and thanks to them for helping set up the goals and other equipment so the players could get the best out of the session.
You can watch a short video of the first training session and here the thoughts of Terry and 'Weedo' below.
A reminder the next training session will be on Tuesday evening – 9 July – at 6.30pm again on the John Beddoes School field.