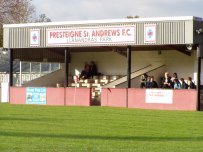 Presteigne St Andrews FC will step up their pre-season work on Saturday, 13 July when they'll play their first warm up match.
From the outset, this game will now be played at Llanandras Park rather than away from home.
Terry Williams and Bryn Roberts will run the rule over their new-look squad in a match against Leominster Town when the kick off will be at midday.
The game was originally due to be played at Leominster but has been switched to Llanandras Park as Leominster's pitch isn't yet ready.
So, a big thank you to our groundsman Tracy Hammond and his colleagues for facilitating this game.
If you are planning on heading to Presteigne Carnival on Saturday well, why not make a day of it?
A reminder, then, the game against Leominster Town will kick off at 12.00pm so you have time to take in the football and then still head up to the Carnival after the game.