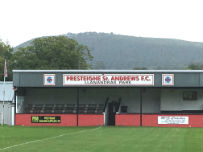 Presteigne St Andrews FC's MMP with Norman Lloyd League, second-division season has formally come to an end following notification that the FAW has decided to bring down the curtain on the 2019-20 campaign.
In a statement, the FAW said they had effectively taken the only sensible course of action open to them in the face of the ongoing Coronavirus pandemic.
"The Football Association of Wales Board of Directors (the FAW Board) have today (19 May) ratified the recommendation of the National League Board and agreed to curtail the 2019/20 season for Tiers 1 to 4.
The decision has been taken as a result of the ongoing COVID-19 pandemic and in accordance with Welsh Government's lockdown guidelines and measures.

The FAW Board took into consideration the health and safety of all those involved with these leagues. Furthermore, the FAW Board also considered the specific economic and financial impact of attempting to finish the season during the pandemic and therefore felt it was imperative not to risk the long-term financial stability of the leagues and their clubs."
So, common sense has finally prevailed in that there was never going to be any appetite for football in June or July, certainly at our level of the game.
That would have been true for both players and spectators as it's a cast-iron, nailed-on bet that, if and when the lockdown restrictions are lifted, visiting friends or relations, or going to the coast, or having a day out shopping will come a lot higher on the priority list of most people than watching a local football match that has little or nothing riding on it.
It's a shame for the likes of Waterloo Rovers who look as though they will miss out on promotion by the narrowest of margins but, for most clubs, today's announcement will come as something of a relief.
Clubs can now start planning for next season without the thought hanging over them that, in the midst of that planning, they might have to put out a side to complete a season that, for most people, was over some time ago.
After all, it was always likely to be difficult for the season to be resumed if, as in some instances, groundsmen had already started their summer remedial work in an effort to produce a top-class pitch for next season.