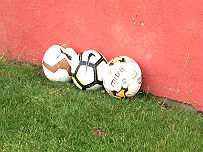 Presteigne St Andrews FC's management team of Gareth Jenkins and Rob Evans have confirmed the club's next training session will take place at the John Beddoes School field on Friday, 31 July.
Players are asked to report at 6.15pm for the session which will follow on from the opening training session of the summer which took place at Lady Hawkins' School in Kington.
For the benefit of those players planning on travelling to the session from further afield, the postcode for the John Beddoes School is: LD8 2YT.
But, in all honesty, if you are coming into the town from either the Kington or the Leominster direction and you use the by-pass, you can't really miss the school field – it will be on your right as you drive up the by-pass.
A reminder that, given the situation in which we all find ourselves at the moment, players and coaching staff are advised they should strictly adhere to the following rules:
Please bring your own water bottle – do not share.
On arrival, please sign in with club chairman Mark Weiland as we need the details of all those present for the Track and Trace system.
The club will provide hand wipes and sanitisers but, if you have your own, please bring those with you.
Most important – please do NOT attend if you have any Covid-19 symptoms – so, a dry cough or fever etc.